The latest trends in Digi Hotel
The leading forum for digital developments in the hotel industry was held with great success during Xenia 2019 exhibition.
For 3 days, with a program that exceeded 20 hours, 60 distinguished speakers analyzed and presented a variety of topics and answered all questions regarding the modern Greek hotelier. Under the microscope of experts was the 2019 tourist season, during which low reservations were noted, and marked by the collapse of tour operator Thomas Cook. Expert speakers presented statistics, strategies and case studies with good practices to tackle such phenomena and estimated that 2020 will be a year of stabilization for Greek tourism. The ways that the hoteliers can attract individual travelers through direct booking, the ways they can maximize profitability and how it is achieved through dynamic pricing, yield management, and lastly the definition of personas were some of the topics that were analyzed in detail. A panel discussed the proper distribution of sales channels, customer profiles and cancellation rates. An inspirational talk on Greek tourism opportunities through internet search, was presented by Google Greece.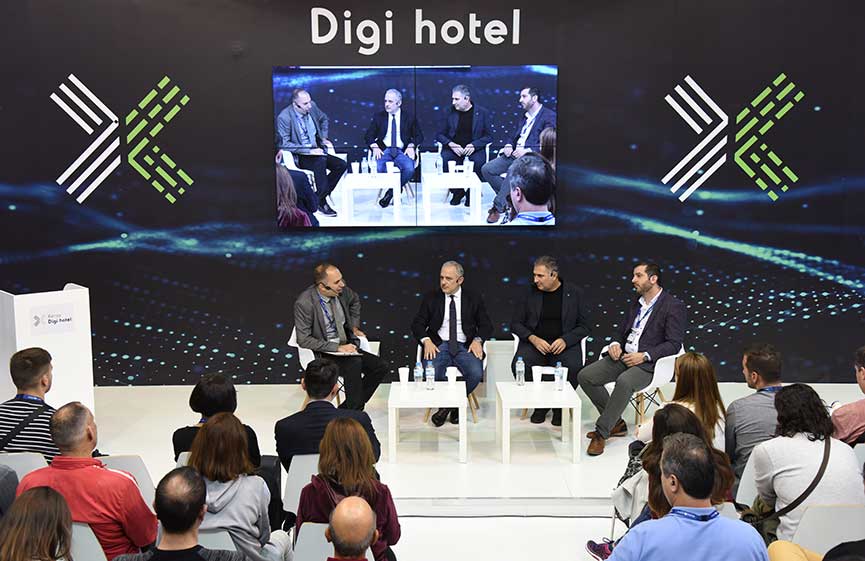 From left: P. Leontopoulos (Hotelistas), D. Serifis (Nelios), A. Damigos (Marinet), Th. Katsimbras (Bookonline)
At the second day of Digi Hotel dominated the topic of promotion where the full spectrum of digital advertising, and the opportunities it gives the hotelier to view and attract targeted customers, was analyzed. Of particular interest were the speeches on Search Marketing, namely the elements a hotel must have in its digital portfolio in order to be visible in its searches, content and strategy, blogging and email marketing, modern digital platforms, advertising and funnel optimization. Digi Hotel launched a new section, which was immediately embraced by the public and that topic was the creation of experiences for the client. A panel of experts analyzed the topic "From Booking Experience to Traveler Experience", during which they talked about creating goodwill through selling experiences, evaluating and influencing influencers and digital destination marketing.
Social Media and the management of reviews on them were the topics that dominated the last day of Digi Hotel. The latest trends in social media and how managing them well can attract prospective customers as well as boost the reputation and recognition of a hotel have been thoroughly analyzed while an interactive master class has provided the public with the opportunity to receive answers and guidance on online reviews and crisis management. The Digi Hotel event concluded with a presentation about the future of tourism and the great development of technology, that it is noticed the last years.