The ultimate digital event for the hotel industry
The digital world of modern hotels will be analyzed during Digi Hotel, the ultimate digital event for the hotel industry, that will be held at the Xenia 2019 trade show!
The Digi Hotel event will take place at a specially-designed area in Hall 3, during the course of the Xenia 2019 trade show and will feature topics such as strategy, sales, sites, content, OTAs, advertising, social media, distribution channels, reservations, and marketing, etc. For three days and following a comprehensive program at the largest and most significant event for the digital hotel sector, world-renowned experts from the fields of digital technologies, marketing and hospitality will consolidate all points of interest and best practices for sector entrepreneurs who wish to reap the rewards of the latest developments spearheading the digital revolution in the hotel industry.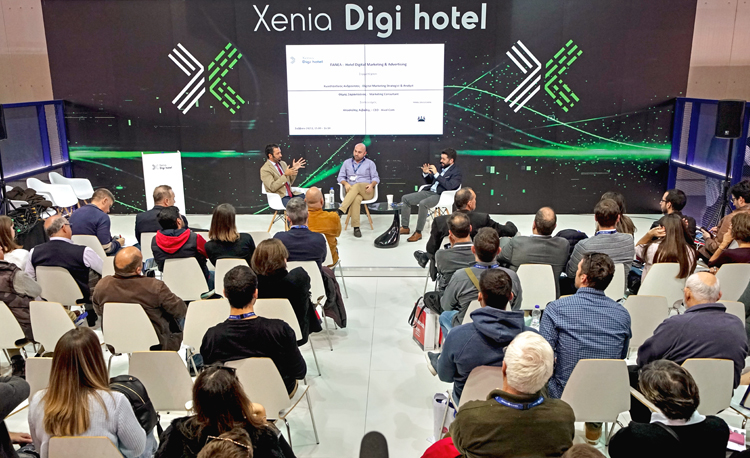 Topics that cover all the issues that modern hotelier faces
During one of the sessions of the event, the reality of Distribution Channels, OTAs and Direct Reservations will be cover aiming to give answers to the following questions: How to Maximize Profit from Distribution Channels, Channel Behavior Analysis, Which channel brings the biggest gain: Revenue per customer, Sales distribution strategy, Room prices and how Parity is protected, Pricing techniques: Dynamic pricing, Meta Search, Last Trends in Booking Machines, Up-Sales Techniques, etc.
Marketing, Promotion and Advertising will be covered during another session and the renowned speakers and experts will give answers to the following questions: How the customer searches for a hotel nowadays, How to make the Website of your hotel useful and modern to the costumer, Sales Teams: What is their Digital Role, Social Media etc. Creating hotel experience for their clients is another subject that will be analyzed by speakers who will explain how hoteliers can create and sell experiences in order to have an extra revenue for their businesses. Furthermore, the new techniques and trends in Social Media will be presented and some of the top digital agencies worldwide will analyzed important topics such as: The power of TripAdvisor and how we can handle it in favor of our business, Google Travel, Instagram: Stories, Posts, Lives, Facebook and Customer Content and how it is being exploited. Smart Hotel will also a new section of the event Digi Hotel, during which Connectivity, Consolidating Customer Messages, Chat Boots, Loyalty Programs, and more will be presented.
Main Topic – Strategy Online Sales & Distribution
11:30 | Introduction
11:45 – 13:30 | Online Sales Strategies during low reservation crisis – The 2019 Example
13:30 – 13:40 | Online Sales Strategies 2019 -Case study: City Hotel
13:40 – 13:50 | Online Sales Strategies 2019 – Case study: Resort Hotel
13:50 – 14:00 | Online Sales Strategies 2019 – Case study: Boutique Hotel
14:00 – 15:30 | Creating demand online to attract individual bookings
15:30 – 15:50 | Study: 2/3 of revenue in Greece comes from individual tourists
15:50 – 16:10 | Creating a buyer persona for more direct bookings
16:10 – 16:30 | Dynamic pricing and Yield management to maximize profitability
16:30 – 17:30 | Sales Channel Distribution – Customer Profiles – Cancellation Rate
17:30 – 18:00 | Think out of the box – There is another way
Main Topic – Promotion, Advertising, Experiences
11:30 | Introduction
11:45 – 13:30 | Hotel Digital Marketing latest trends
13:30 – 13:50 | Search Marketing (SEO, Google Ads)
13:50 – 14:10 | Content strategy – Blogging, Email marketing
14:10 – 14:30 | Modern digital advertising platforms
14:30- 14:50 | Digital marketing funnel optimization
14:50 – 16:20 | From the booking experience to the traveler experience
16:20 – 16:40 | Traveler's experience
17:00 – 17:20 | Building up goodwill with customers by selling experiences
17:20 – 17:40 | Digital PR – Influencers και Aξιολόγηση
17:40 – 18:10 | A pin in the map – Digital Destination Marketing
Μain Topic – Social Media & Reviews Management
11:30 | Introduction
11:45 – 13:30 | Social Media Latest Trends
13:30 – 13:50 | Inhouse management of your social media profiles
13:50 – 14:10 | Social stories the new era
14:10 – 14:30 | Social ads targeting and strategies
14:30 – 15:30 | Online Reviews Management – Trip Advisor, Google My Business, OTA's, Facebook & more
15:30 – 17:30 | How to respond to negative online reviews
17:30 – 18:00 | eTourism Dream