The exhibition center METROPOLITAN EXPO is located at the end of Attiki Odos (see map) and access to it is quite easy given the variety of transport means, from Metro and Suburban Railway to bus, car and airplane. Specifically, visitors have the following options for accessing the exhibition center:
By car:
Visitors can access METROPOLITAN EXPO via Attiki Odos Expressway, 2 km after the facilities (Arrivals, Departures, Hotel, Metro station etc.) For those choosing to visit the exhibition by car, there is free parking, with a capacity of 5,500 spaces. METROPOLITAN EXPO has two parking areas in front of its two entrances, where visitors can park their cars. The trade show's personnel will supervise the parking areas and will be in charge of traffic control.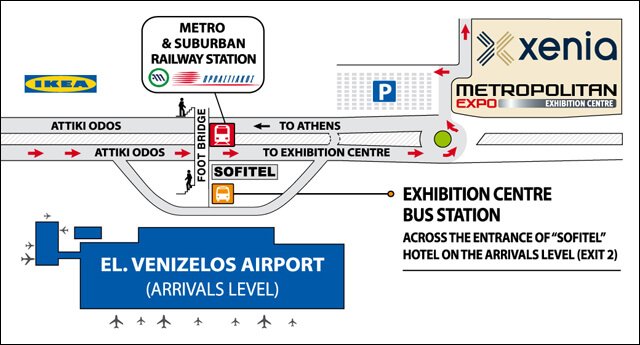 Metropolitan Expo Coordinates:
37° 57′ 10.00″ North
23° 57′ 29.00″ East
By means of public transport:
Metro: Airport stop, line 3 – Dimotiko Theatro / Monastiraki / Doukissis Plakentias / Airport
Suburban Railway: Airport stop, line Neratziotissa / Doukissis Plakentias / Airport
Buses: All Attica's Express buses to the Airport (X92 / Kifisia – X93/KTEL Kifisou & Liosion – X94 / Syntagma – X96 / Piraeus – X97 / Dafni)
KTEL Buses: Connection with the Port of Rafina, Markopoulo, Keratea, Kalyvia and Lavrio.
Free Shuttle Bus Service for Visitors
For those who will come to the exhibition center by Suburban Railway, Metro or any bus that stops at the entrance of the airport "El. Venizelos", across the entrance of the hotel "Sofitel" and at the arrivals' level (in front of Exit 2), there is the exhibition center's bus station; shuttle buses will transfer visitors for free to and from the trade show every 15 minutes. Furthermore, XENIA shuttle buses will transfer visitors for free to and from Doukissis Plakentias METRO station every 15 minutes. Please note that it is suggested that you should disembark at Plakentias station because the ticket to the airport "El. Venizelos" costs 9 euro per person while the ticket to Plakentias station costs 1,2 euro.