Their absolute satisfaction with their participation in the Xenia 2017 exhibition was expressed by the exhibitors who participated, while they also greatly confirmed their participation in the next Xenia 2018.
FORUM SA, XENIA organizing company, aiming at improving the exhibition, commissioned the IPSOS / OPINION company the XENIA 2017 evaluation report on the satisfaction of its exhibitors. The IPSOS / OPINION survey company, in order to measure and record the satisfaction of the exhibitors from their participation in XENIA 2017, carried out a quantitative market survey on a sample of 310 exhibitors, selected by the organizing company. The sample was allocated to the 4 Hall of the exhibition and the square of the stands to be as representative as possible. In particular, the survey was conducted in the form of Computer Aided Telephone Interviews (CIA) using a semi-structured 10-12 'questionnaire. The interviews took place with the owners / commercial directors / sales managers and general managers of the companies who participated in XENIA 2017 as exhibitors one week after the end of the trade show in order to give them the time to form a settled opinion.
XENIA 2017: Satisfaction from participating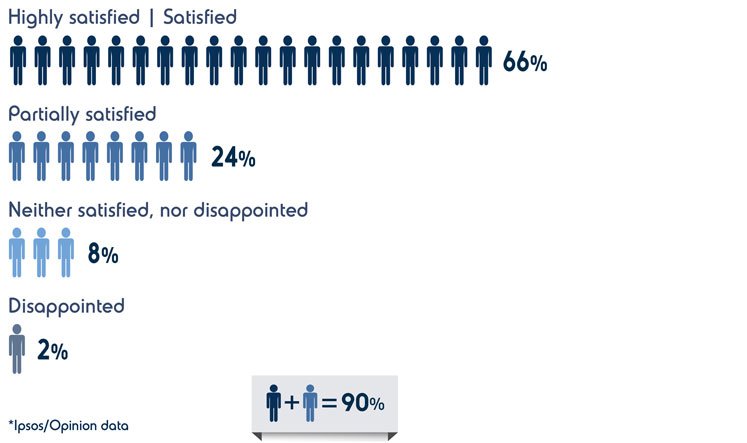 89% of exhibitors intend to also participate in Xenia 2018
The results of the survey clearly show that the suppliers of the hotel industry and the tourism industry in general wished the return of the exhibition, embraced it warmly from the very beginning and that in the next years XENIA will become the leading trade event for the Tourism Industry of our country. Specifically, 90% of the exhibitors were fully satisfied with their participation, 83% stated that their participation in the exhibition to a great extent covered the commercial reasons for which they participated, while already 90% of the exhibitors have expressed the intention is to participate in the Xenia 2018. Impressive are also the results with regard to the commercial effectiveness of the trade show as the overwhelming proportion of 89% of exhibitors expect to conclude trade agreements at the the next six months from the end of the exhibition, confirming that the exhibition is the ultimate trade forum for the Tourism Industry.
XENIA 2018 participation intent