Greek Breakfast, a very important initiative of the Greek Chamber of Hotels was hosted for the first time at Xenia 2019.
The Greek Breakfast, the most important social responsibility action of the Greek Chamber of Hotels, linking the primary and tertiary sectors, with the ultimate aim of benefiting tourism and the local community, was hosted in HALL 1, the C26 of the Metropolitan Expo at XENIA trade show, which was held during 23-25 November 2019.
The visitors of the exhibition, namely hoteliers who visited the specially designed stand of the Greek Breakfast, they had the opportunity to get to know better the gastronomic treasures of many destinations of our country through a very interesting live cooking show, which were presented by the chef of the Greek breakfast, Mr. Sratos Iosifellis.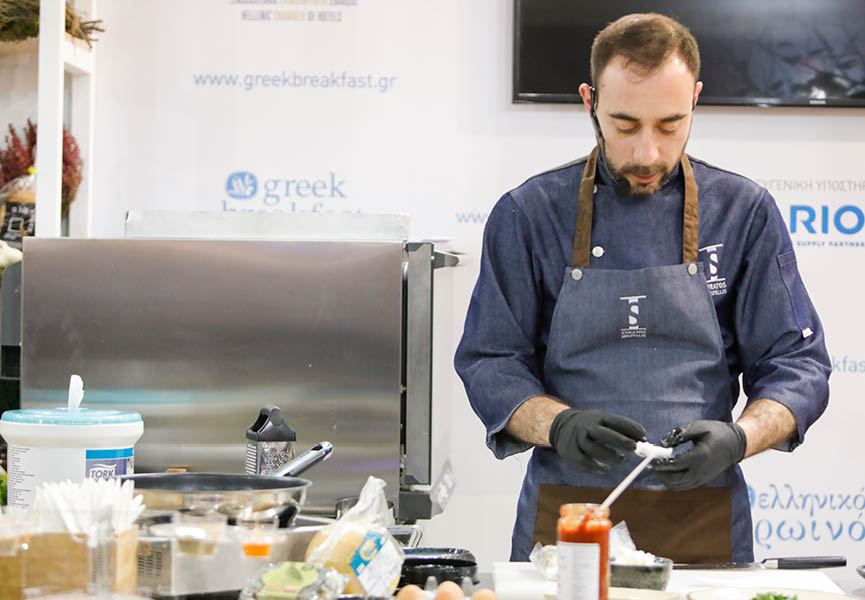 Chef Iosifellis, with many years of experience in Mediterranean cuisine and a certified trainer in cooking schools, presented a lot of culinary ideas with gluten free products, and plates that a hotelier can introduce to the breakfast menus of his business that are based to quality products from small producers from all over Greece.
The live cooking shows that took place during the three days of the exhibition, under the supervision of the chef, Mr Sratos Iosifellis, aimed to get acquainted with genuine Greek products and show to the hoteliers the appropriate way to integrate them into the breakfast buffet of their businesses.
"Greek Breakfast participated in Xenia for the first time. We tried not to show isolated local delicacies, as we have been doing all these years, but having as our motto, "Every morning we set the table throughout Greece", to get some products from different corners [of Greece] and put them all in a buffet. And that is what we have done, we have set it up and now present it with the help of our chef, Stratos Iosifelis. We have producers from both northern and island Greece as well as the Peloponnese.
Our presence at Xenia went very well. We are very pleased with the number of hoteliers who wish to join the program."