Hotel Megatrends by xenia 2019: Innovation and Tradition
Following the last year's successful presentation of the innovative project Hotel Megatrends by xenia exhibition, the organizer, Forum, presents Hotel Megatrends by xenia 2019.

With its central theme of "Innovation and Tradition", Hotel Megatrends by xenia 2019 makes a dynamic comeback to present itself even more sophisticated, giving solutions and inspiring the full range of visitors of the exhibition!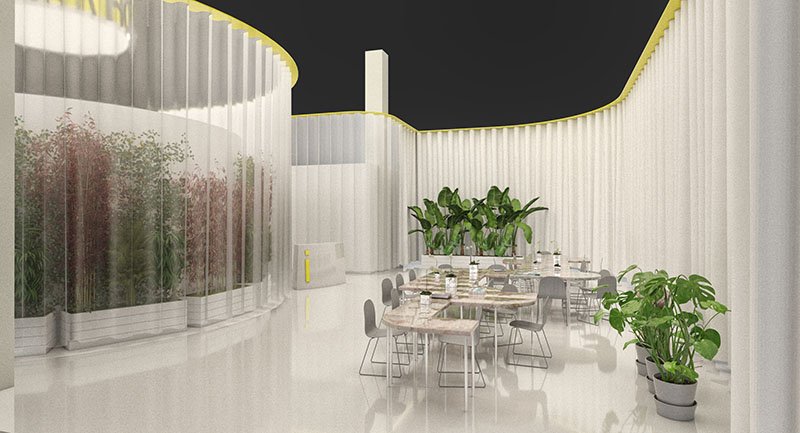 At a time when all major tourism industry executives declare that the strategy of the tourist product should in the future focus on quality but also on the creation of experiences rather than reaching a number of visitors in our country, Hotel Megatrends is contributing to this public debate on the evolution of Greek tourism, trying to highlight the ways in which key but necessary variables such as innovation and modern international practices can be combined, with the roots and our tradition. The purpose of the overall design is to create different concepts of hospitality spaces by recognized architects and designers, responding to the wishes and expectations of the modern traveler. A traveler looking for experiences that are always developed in conjunction with the specific elements of the place they visit, but also through a creative blending process: innovation and tradition / sustainability and technology / wellness and well-being.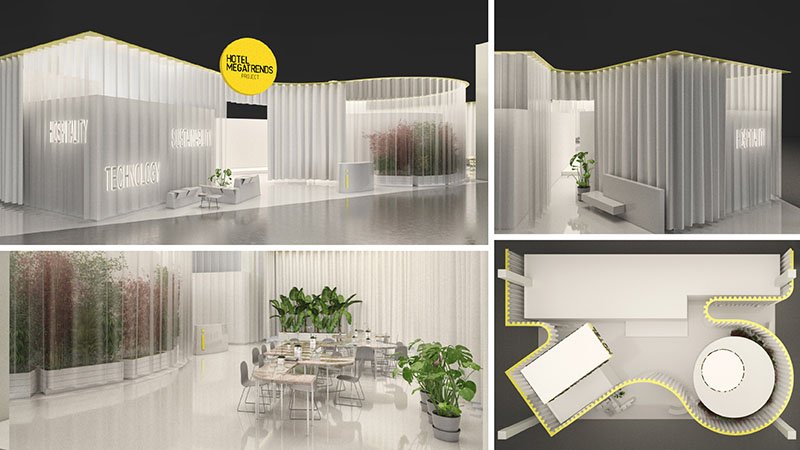 5 innovative concepts from 5 renowned architects
In this context, five renowned architects and designers will present five innovative hospitality concepts on an area of 355 sq. m., placing architecture and design at the center as key tools for creating unforgettable experiences. For yet another year the project will be realized with the substantial contribution of xenia exhibitors, since in the case of real projects, it is the companies of furnishing, decoration and building that give the final shape to an idea or design.
The spaces of the presentation and the architects and designers to undertake the design and development of the different concepts are the following:
01– RECEPTION/ LOUNGE by MINTSOULI DESIGN STUDIO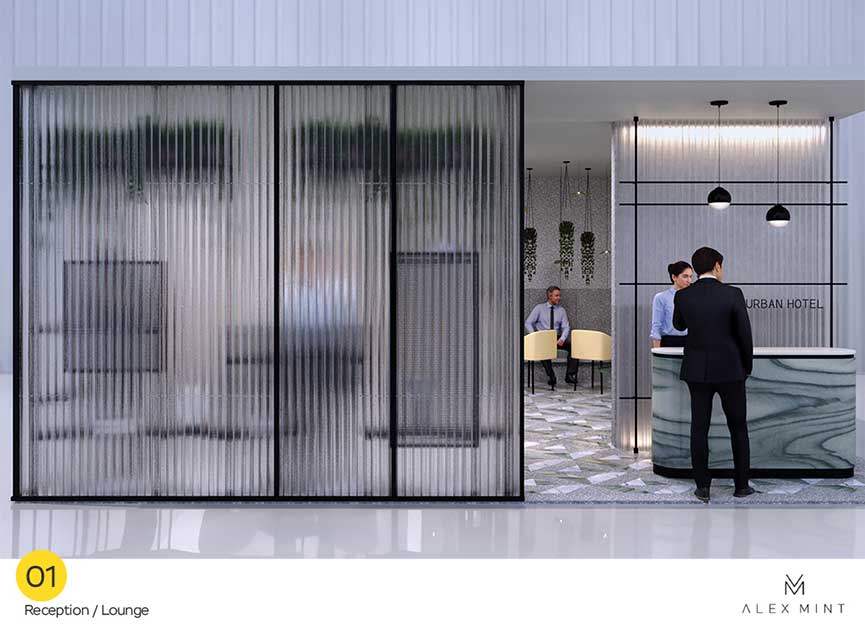 Alex Mint is a new design firm established in London UK in 2017. Architect and Designer, Alexia Mintsouli is the designer behind the brand and she is particularly interested in crafting extraordinary design pieces with sublime characteristics. One of her key design principles is to combine her unique ideas, her marble-based origins and her technical knowledge in interior design and architecture to deliver high end furniture and accessories.
02– BOUTIQUE ROOM by SOTIRIS LAZOU DESIGN STUDIO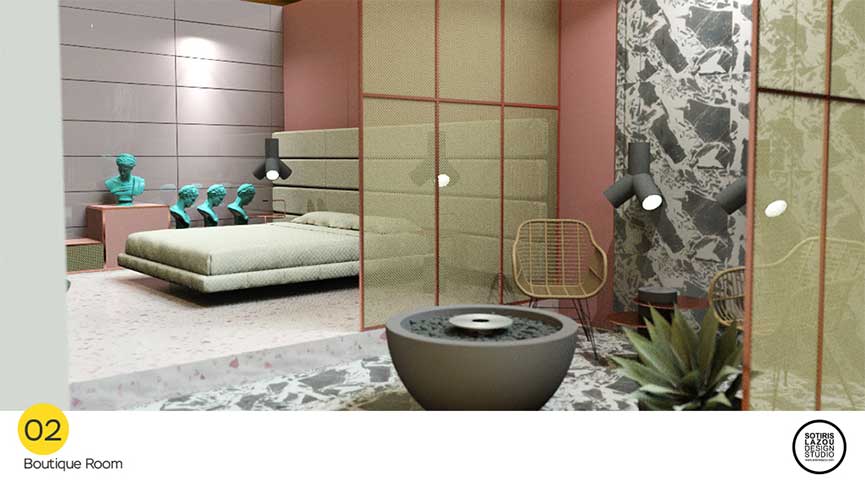 He studied at the University of Western Attica in the Department of Interior Design and Industrial Design (MA) in Milan in 1991, in the famous DOMUS ACADEMY. Since 1992 he designs furniture and items for many Greek companies, and he has taken part in many exhibitions in Greece and abroad. He taught at the University of Western Attica and since 1996 until 2015 he was a professor of ID. AKTO College of Arts. His creations have received international recognition. The COSMOS designed table won the GOOD DESIGN AWARD 2008 and MOMINEE in GERMAN DESIGN AWARDS. His works has been published in magazines in Greece and abroad!
03– STUDIO ROOM by Α & Μ ARCHITECTS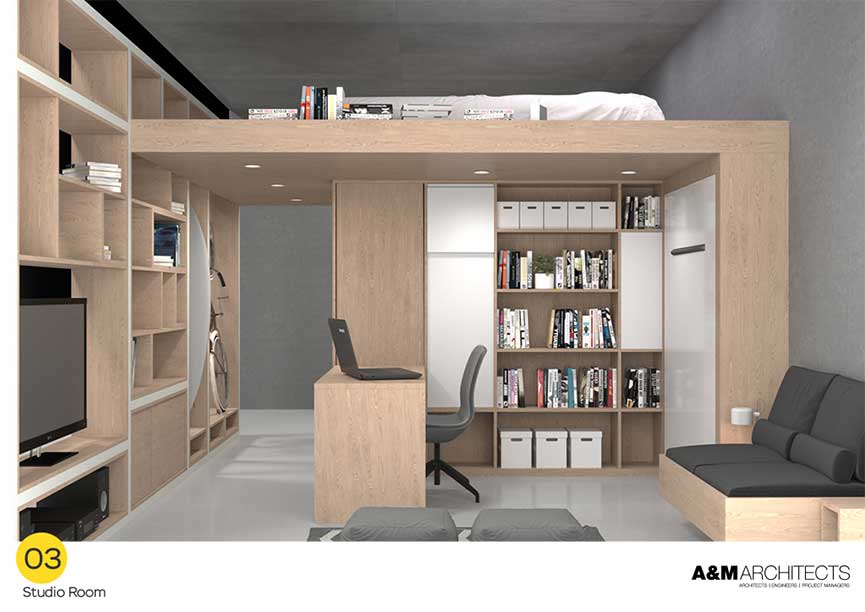 Focus on "turnkey" solutions and an in-house design, civil, mechanical and electrical engineering capability, A&M provides for more than 30 years the expertise to undertake international complex projects, under Michael Mavroleon's management. Using fresh ideas to create office space, airport commercial spaces, retail "stories", hospitality and residential projects in Europe, Middle East, North Africa succeeded in expanding its activities in China as well.
04– RESTAURANT IN NATURE by GIAN PAOLO VENIER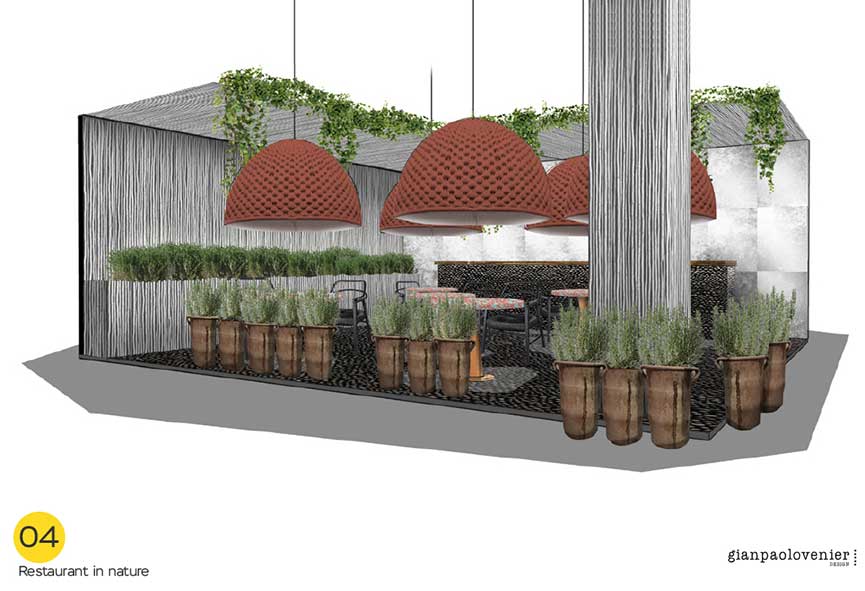 Designer and creative director at international level, his distinctive signature combines a cosmopolitan elegance with the highest attention to materials, textures, tailor-made creations and sophisticated color palettes. From 2013 to 2015 he was responsible for the creative direction of Italian luxury brand Ivory Collections. In 2016 the Italian furniture manufacturer Airnova – specialized in leather and metal furniture – appointed him as its art director; a role that, since April 2017, Gian Paolo covers also at Greek furniture & lifestyle brand Mary by MIA collection.
05– SMARTECH SPACE by L+DG LIGHTING ARCHITECTS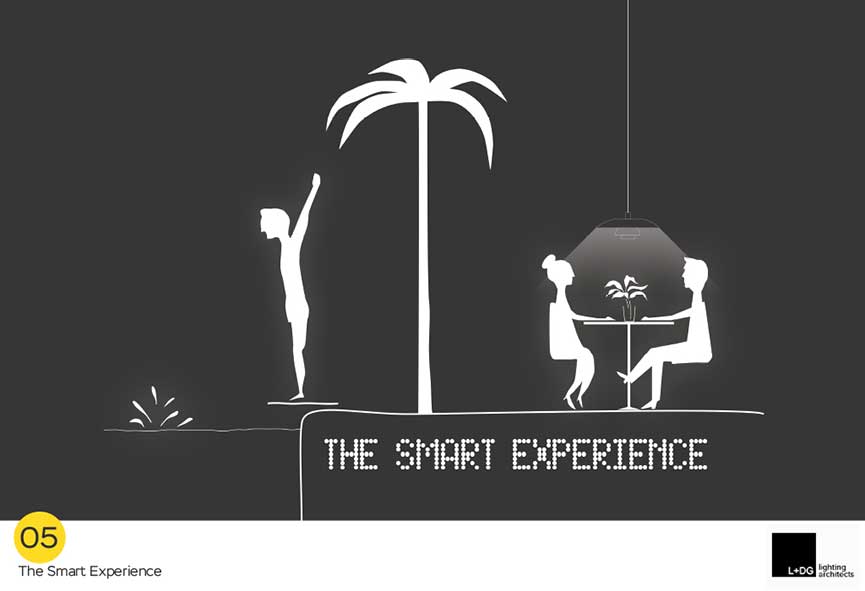 Thomas M Gravanis is the founder of L+DG Thomas Gravanis Lighting Architects having previously worked in the lighting industry as lighting consultant (since 1988). He is graduated from Bartlett School of Architecture with an MSc degree in Light & Lighting and he specializes in the integrated lighting design of low energy, environmentally response office buildings, hotels, leisure and entertainment centers.
Hotel Megatrends / Sponsors
For another year the project will be implemented with the substantial contribution of Xenia exhibitors, who will give all the necessary products for the furniture, decoration, construction and signage of the project. Among the companies are: Team Sa, Akritas, Stamatopoulos Group / Wise Fabulous choices, IT concept, Bright, Lamp, ABB, Lithos, Orama Minimal Frames, PCA, Novamix, Vitex, CMS, Decopan, Kraft, Caneplex, Candia, Mia Collection, Mod Plus, Almeco, Metridis Contract, Viokef, EKA Hellas, Gallis, Varial, Imatia, Hafele, Alfa Wood, Urbi et Orbi, Lattas and many more will be announced soon.
Architects Lounge by the Hellenic Institute of Architecture
The Hellenic Institute of Architecture, demonstrating its active role in the essential connection of Greek Architecture with Greek Hotels, participates for the first time in the Xenia exhibition. Specifically, it is responsible for the design and construction of the Architects Lounge, a space that will form part of an overall exhibition experience as it is adjacent to the Hotel Megatrends project and the Hotel Megatrends / Talks Stage. In this area, a special photography exhibition will showcase the relationship between Greek Architecture and the Greek Hotel, through a historical overview. At the same time, the Architects Lounge will aim to become, during the exhibition, a meeting point between the world of Architecture & Design and a networking platform between architects and hotel executives.