The challenges of the new era & the digital solutions
The next day of Greek tourism and the dominant role of digital solutions will be the core topic of the leading digital event for the hotel industry in our country, Digi Hotel by Xenia.
Digi Hotel will be a powerful think tank, through which the developments and the challenges of the new post covid era in tourism globally will be reflected. Through panel discussions and useful workshops by the leading professionals in the tourism industry will be mapped the new dominant role of digital in the hospitality industry and the countless powerful tools it offers in all areas. Digi Hotel will evolve through a long schedule of three days of the exhibition, on a special stage in Hall 3. The major issue of ways the hoteliers can attract new tourist markets through the excisting digital solutions will be also analyzed. The distinguished speakers will explain how the Greek hotelier can form new models of experience and promote them through digital channels.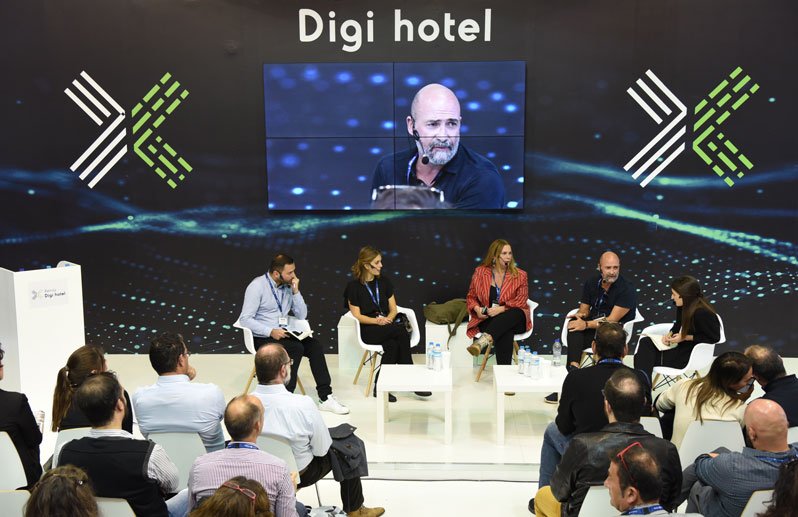 Targeted case studies by the industry's experts
Digi Hotel will also analyze OTA's bad practices which have plagued and damaged hoteliers and will show them the ways they can be protected from future bad practices. Crisis management will once again be at the forefront of the event, with an analysis of real case studies.
Among the topics that will be covered by the experts during Digi Hotel, are the new developments in the digital algorithms of search engines, which manage to achieve the largest and most accurate targeting of customers, sales and bookings with a focus on direct booking and of course the latest developments in digital marketing, distribution channels and their better management. Technical issues such as the correct pricing of hotel rooms, the "valuable" parity of prices, contracts with OTA's etc. will be analyzed in detail. The artificial intelligence and the new possibilities it offers to the modern hotelier, the traveler's experience and the right ways to sell and pre-sell them are still issues that will be presented by the experts during the Digi Hotel of Xenia 2021.
The program is as follows
Greetings
Viki Vamiedaki (Journalist 24 Media)
Panel discussion: Greek hotels during the pandemic: The Report
Moderator: Giannis Giannakakis (Tornos News)
Speakers: Aris Ikkos (INSETE), Haris Neophytidis (Chandris Hotels), Vicky Dorzioti (AHIA Hospitality)
Panel discussion: How Digital saved Global Tourism
Coordinator: Dimitris Serifis (Nelios)
Speakers: Victor Matsas (Webhotelier), Sotiris Varelas (University of Piraeus)
Keynote: Report: Webhotelier – The Next Day
Speaker: Victor Matsas, CEO (WebHotelier)
Keynote: Report: Expedia – The Next Day
Speaker: Markos Giannisopoulos Area Manager Greece, Bulgaria, Cyrpus Expedia)
Keynote: AirBnB Report – The Next Day
Speaker: Nasos Gavalas, President of the Association of Greek Short-Term Lease Companies (STAMA)
Panel discussion: New era in hotel sales: The consolidation of Digital
Moderator: Giannis Fotis (Novus Mind)
Speakers: Theodoros Katsimbras (Bookonline), Panos Kontozamanis (PrimalRes), Stella Tsantila (Incrementum)
Case Study: How did the change of distribution in the hotel … saved the game!
Keynote: Contracting: The prevalence of Dynamic Contracts
Speaker: Michalis Vardaros, CEO (The Hotel Way)
Discussion panel: Sustainability as key marketing tool for the hotels
Speakers: Ioannis Pappas, Mediterranean Region at GSTC (Global Sustainable Tourism Council), Alexandros Angelopoulos (Aldemar Resorts), Vicky Karatzavelou (NatTour)
Greeting
Dimitris Stathopoulos (Journalist Travel.gr)
Panel discussion: Hotel Digital Marketing: The next day
Moderator: Dimitris Stathopoulos (Journalist Travel.gr)
Speakers: Giannis Koutsopoulos (Abouthotelier), Konstantinos Androutsos (Digital Marketer), Themis Sarandaenas (Marketing Consultant)
Workshop: Building a 360 Digital Strategy from scratch
Presenter: KnowCrunch
Speakers: Apostolis Aivalis, Giannis Elpidis, Dimitris Dimitriadis, George Arapogiannis
Keynote: Search Marketing: SEO and Google ads check list for 2022
Speaker: Dimitris Serifis (CEO Nelios)
Keynote: Basic Digital Advertising Platforms: Comparing the Pros and Cons
Speaker: Kyros Asfis (CEO NeaMesa)
Keynote: The Rise of Video Ads
Keynote: Bloggers & Influencers: Εvaluation check list
Speaker: Katerina Dimitrakopoulou (CEO Social Mellon)
Workshop: Data & Tourism. See your business future through the proper use of data and marketing strategies
Hosted by: CaptuleT
Presenter: Katerina Saridaki (Director CapsuleT)
Speakers: George Karathanasis (Hotellisense), Kyriakos Tsigros (Campsaround)
Introduction: Creating New Digital Revenue Channels in the Hotel
Speaker: Dimitris Serifis (CEO Nelios)
Keynote: Triparound
Speaker: Antonis Chalkiopoulos (Co-Founder Triparound)
Keynote: Exclusivi
Speaker: Babis Kourtzis (CEO Exclusivi)
Panel discussion: Contactless: Today's Smart Hotel at customer service
Keynote: Apps: How to reduce costs and organize the operation of the hotel
Speaker: Giannis Charalampakis (CEO, Hotel Tool Box)
Keynote: Chatbots: My AI Friend to direct reservations
Speaker: Alexandros Damigos (CEO, Rate Parity)
Case study: The Smart Hotel of 2022
Panel discussion: Building Digital Relationships with your Customers: After cookies what?
Speakers: Iason Milionis (Hotelwize), Costas Panagakis (Travelworks), Nasos Fanos (Lawyer)
Keynote: Digital communities on Social Media (Facebook, Instagram, TikTok)
Speaker: Nikolas Zartaloudis (CEO The Digital Garage)
Keynote: Newsletters: The return
Speaker: Panos Melissaropoulos (CEO Moosent)
Keynote: Reviews & Reputation Management
Speaker: Dimitris Lazaridis (Founder, Lazaridis Hospitality Marketing)
Keynote: CRM / Loyalty: New Trends
Speaker: Triantaphyllos Sarafidis (CEO, M-Hospitality)
Keynote: Digital Destination Experience Marketing
Hosted by: Marketing Greece