The global contemporary reality of digital technologies —as a strategy, sales and marketing tool— were thoroughly mapped and presented at this year's Xenia 2018, on 24-26 November in Athens, Greece.
Xenia Digi Hotel, one of the main events of the largest trade show for the hospitality industry in Greece and the Balkans, that took place at a specially-designated area in Hall 3 of the Metropolitan Expo exhibition center, showcased the latest international trends, and educate and inform hoteliers on everything they need to know about today's digital world. For three days and following a 22-hour long and comprehensive program, more than 40 world renowned experts from the fields of digital technologies and hospitality consolidated all points of interest and best practices for sector entrepreneurs who wish to reap the rewards of the technologies spearheading the digital revolution in the hospitality sector.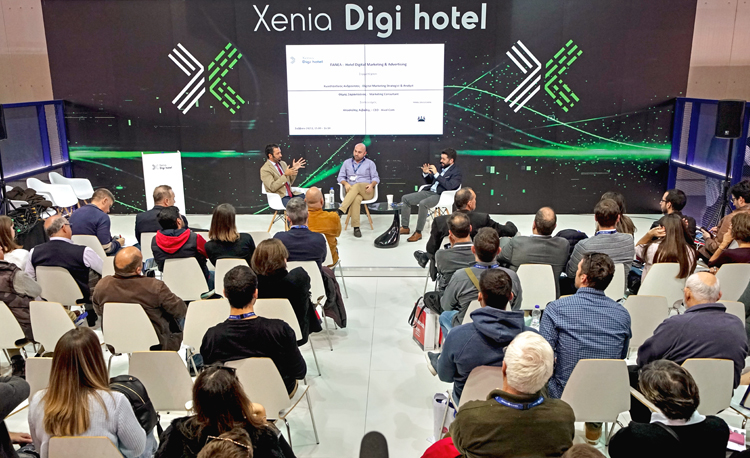 6 thematic sections, specially-designed for hoteliers
Six thematic sections, two for each day, covered a plethora of issues concerning large hotels as well as smaller accommodation, and analyzed in detail how to use digital technologies to their benefit. Namely, issues such as how to improve a hotel's Online Presence, were discussed in depth.
The hotel digital world:This important section thoroughly analyzed all of the key tools for the hotel's online presence, from the ways an hotelier can optimize his business website to attract more reservations to the reasons a blog can be the best selling tool. In addition, the benefits of google my business and analytics were be examined.
Hotel digital marketing and advertising:One of the major sections of the Xenia Digi Hotel, that reflected the latest developments in digital marketing, promotion and advertising, as well as all the recent changes in legislation regarding private data.
Digital sales, direct booking & distribution: Another key section, featuring the largest and most significant online booking companies that presented their strategies for the Greek markets as well as the secrets of direct bookings. Experts provided instructions and solutions for the correct pricing of hotel rooms, and discussed all there is to know about online booking engines, distribution channels, etc.
Innovation technologies:Innovative start ups were presented, with the main purpose of offering an additional "weapon" to the hotelier but also a functional and practical service to the visitor.
Quality content for hotels:Content —i.e. texts, videos, photos and newsletters, and their proper placement in digital and print media— and the correct production, use and importance of all data were analyzed.
Social media for hotels:Their different functions, their individual operations and applications, but also their evolution in terms of professional use, were illustrated by specific case studies.