Χenia Build Hotel: Sustainability: Design and Challenges
The way hotels can implement certified sustainability programs aiming to provide high quality services while respecting both the environment and the local communities, were presented during Xenia Build Hotel event at Hall 2.
Innovative ideas, technological products, and useful tool for the environmental sustainability of hotels were presented by specialized speakers, architects, engineers as well as executives from the market and the hotel industry, during Xenia Build Hotel event.  At the same time, they presented ways to apply the principles of sustainability in the tourist accommodation, in terms of construction and architecture, but also in terms of energy and water savings and waste management.
Coordinators of the Xenia Build Hotel event were the "ek" Magazine, a monthly edition of architecture and design aimed at promoting modern architecture, both to professionals and a wider public and Dr. Ioannis Pappas, President & CEO of Green Evolution.
Monday, November 29 – Post show
Τhe Build Hotel program started with the Key Lecture: Hotels, sustainability and the brand "Greece", by Demosthenes Brousalis, General Manager, DASC Branding, who explained how can a hotel communicate effectively its sustainable profile.
After Mr Brousalis, the audience had the chance to watch a case study of "Dexamenes Hotel" in Kourouta. Its owner, Mr N. Karaflos showcased the way in which an abandoned historical winery was transformed into a modern hotel unit, keeping the existing structures almost intact and making the best use of local building materials.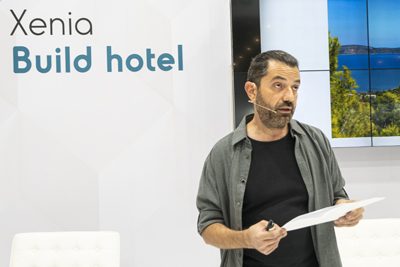 Praxitelis Kondilis (A31)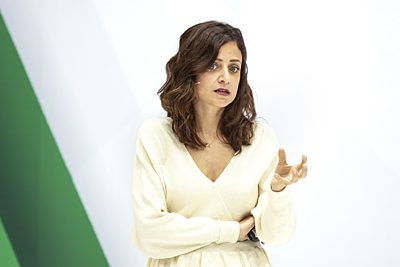 Labrini Podaropoulou (Landco)
Τhe case study was followed by a very interesting discussion about "Traditional materials and local tradition as an element of differentiation in the hotel industry", with the participation of D. Serifis (Nelios), N. Karaflos (Dexamenes Hotel, Kourouta), V. Karantzavelou (Travel daily & bike friendly) and Dr. Ioannis Pappas, (Green Evolution).
Later on, Mr Praxitelis Kondylis showcased the Design, Landscape and Sustainability of the Ilya Botanic Suites, in Alonnisos. More specifically, he explained how the project was designed and built, so that it is in a constant dialogue with the natural landscape.
Finaly, Μrs Lamprini Podaropoulou (Landco) presented her opinions about "Green Technologies for Sustainable Landscape Architecture" explaining how can a modern hotel unit obtain certifications concerning sustainability, by adopting these technologies.
Sunday 28 November 2021 – Post show
Sunday's program started with an interesting talk related to the hospitality industry, with the topic of "Landform Architecture" in relation to sustainability. The speaker of the presentation was Mr. Theo Sarantoglou Lalis (Lassa Architects), coordinated by Mr. Stavros Martinos (Ek Magazine). Mr. Sarantoglou Lalis underlined that the main goal is to reduce the environmental impact through modernized, eco – friendly hotel constructions, combined with their smart integration in the topographic environment. Then, Mrs. Marika Mavroleon (A&M Architects) presented a case study on the modernization of a '50s building and specifically, the Athenian "Say Hotel". She said that a renovation can meet challenges, but the goal is to achieve sustainability combined with serving modern needs, thus transforming an old hotel into a timeless one with a new identity and longevity. The next speaker was Mr. Foivos Skroubelos (AUDO Architects) who introduced us on "Negotiating Rural Landscapes", referred to "Olivar Suites" in Corfu, highlighting the coexistence of the project with the scale of man and nature. Then, Dr. Ioannis Pappas (president and CEO of Green Evolution SA) introduced us to the presentation of "Designing a hotel with almost zero energy consumption in Greece". The main focus was the sustainability of hotels from the engineer point of view, underlining the energy efficiency and challenges the modern hotelier has to face.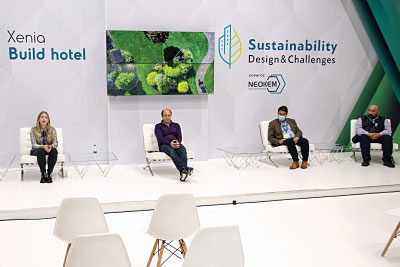 Artemi Dimitroula (smart Hotel), Costas Kydoniatis (owner F & K Kydoniatis Architects & partners), Vassilis Stavrakakis (Stella Island), Dimitris Dimopoulos (enervillar project)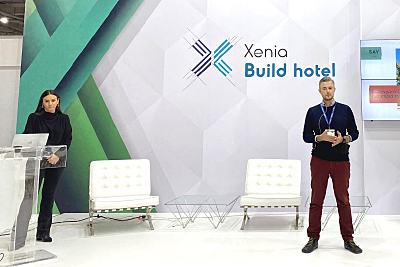 Marika Mavroleon (A&M Architects) and Stavros Martinos (ek magazine)
The audience also attended the case study "Atlantica Dreams Sensatori Hotel Resord and Spa Rhodes" by Mr. Costas Kydoniatis (Owner F. & K. Kydoniatis Architects & Partners) and the "Hellenic Vibes Smart Hotel" by Artemis Dimitroulas (Smart Hotel), while hearing about the "Passive Buildings" and the infrastructure of a smart hotel, aiming at sustainability. Subsequently, Dr. Pappas coordinated the first panel of the day, consisting of Ms. Dimitroula, Mr. Kidoniati, Mr. Stavrakaki (Stella Island) and Mr. Dimopoulos (Enervillas Project), on the design of a NZEB Hotel / Smart Hotel, giving extra emphasis in renovations, legislation and fundings. Sunday's Build Hotel was completed with a panel coordinated by Mr. Martinos, while the speakers Mr. Konstantinos Kalamakis (Gallis Lighting), Mrs. Eleni Dikaiou (Europa) and Mrs. Ioulia Antonakopoulou (Vitex) discussed extensively on the topic of sustainability in design and materials, considering it the only way for the modern market.
Saturday 27 November – Post show
Dr. Pappas was the first to take the stage, delivering a keynote speech on sustainable development in the hotel sector, international trends, and the future of sustainability in Greece. Dr. Pappas pointed out that sustainability is neither a result nor an end in itself. It is a procedure; it is the means in order to achieve high quality tourism. The aforementioned speech was followed by the presentation of Voulgaris Hospitality Group by Mr Charalambos Voulgaris, owner of three hotels in Corfu (Kontokali Bay Resort & Spa, Aeolos Beach και Olivar Suites) and the presentation of Castelli Hotel in Zakynthos by its owner Mrs Maria Lougari. They both talked about the way that sustainability is included in the hospitality sector, as well as the benefits and the existing challenges. The panel discussion on the "sustainable hotel" was extremely constructive, with an emphasis on certification, its next day, global trends, but also on domestic developments. Coordinator of the panel was Dr. Pappas and in the discussion participated: A. Bratis (Olympia Golden Beach Resort), C. Voulgaris, A. Nikoloudakis (Eleon Grand Resort), R. Tsirigoti (NJV Athens Plaza), G. Paliouras (Rhapsody Travel), N. Antonopoulou (Greek nature protection company).
 Nikos Peppas & Katerina Tsiolaki (Peppas N  Architects)– Konstantinos Dermitzakis (Dome of Engineering)– Spiros Kouria (Numo Hotels)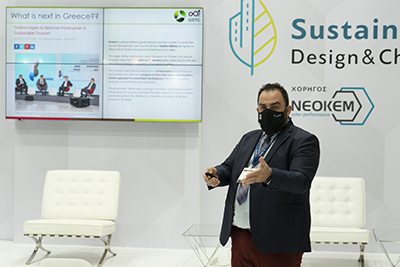 Dr Ioannis Pappas (Global Sustainable Tourism Council)
Harmonization of infrastructure and natural environment 
 After the panel discussion, Mr Stavros Martinos from "ek" Magazine took over the role of coordinator, with the speeches and discussions focusing on the development and promotion of infrastructure and services aimed at upgrading the tourism product. Mr. Petros Tavaniotis (BETAPLAN) gave a very interesting speech on "Green Building Tools", emphasizing that a holistic approach on the part of architects is more necessary than ever, while he spoke about bioclimatic architecture and biophilic architecture. Afterwards, there was a new panel discussion on "A modern look at Cretan hospitality", where the vision, strategy and implementation of the hotel "Royal Senses: Resort & Spa Crete, Curio Collection by Hilton" were presented. The discussion was attended by Mr. Spyros Kouris (Numo Hotels & Resorts), Mr. Konstantinos Dermitzakis (Dome of Engineering), Mr. Nikos Pappas and Ms. Katerina Tsiolaki (Peppas N Architects). The program concluded with Ms. Alexia Karakassis (Doxiadis + Architects) analyzing the topic of Designing for Symbiosis in the hospitality sector.
Strategic Partnership
Strategic partner of the Xenia exhibition and the Xenia Build Hotel event, for the next two years,  regarding Sustainability issues is Dr. Ioannis Pappas, who is a Mechanical Engineer, with PhD in Applied Mechanics, with over 30 years' experience in several fields of science, focusing on Sustainable development in Tourism, Energy and Environmental Efficiency in Infrastructure and Buildings, Advising in standardization of companies and technological implementation of climate adaptation and mitigation methodologies. He is Senior Advisor on Climate Neutrality and Life Cycle Analysis & Assessments, Net Zero Initiatives and Green Energy / Renewables. Also, he is Lead GSTC Assessor for Destinations, Auditor / Assessor for Sustainable Tourism Certification Standards, focusing on Hotels, Tour Operators and Destinations, and Lead Trainer for GSTC in South East Europe Region. He is the head expert of GSTC team on the Collaboration Contract between GSTC & Greek Ministry of Tourism on the implementation of Sustainability into the new National Tourism Strategy. He has vast experience in Sustainability Projects, including R & D, National, European, and International, while he has an international training experience on sustainability, tourism and energy efficiency for the last 10 years.