Forum SA proudly announces the exclusive collaboration with Tornos News for the 2nd consecutive year in order to publish the Xenia News magazine for the upcoming Xenia Expo.
Xenia News is the official news platform with three online editions published on www.xenianews.gr, dedicated newsletters, as well as a printed edition to be distributed inside the Xenia Expo featuring editorial coverage of the exhibition.
Forum SA and the editorial team of the Tornos News are excited for this cooperation and they are ready for the live coverage of the exhibition for the online edition of Xenia News.
In addition, a special printed edition of the Xenia News will be distributed in 9,000 copies with news, analysis pieces, interviews and all the latest trends for the exhibitors and visitors.
For the past five years, tourism has been a major asset to the Greek economy. More than 32 million tourists chose to visit Greece last year. Greek and international companies are investing heavily in the hospitality industry as sector enters a new era of sophistication, personalized service and authentic luxury. Xenia Expo aims to inform tourism professionals on the latest trends in the sector. This year only, more than 30,000 people are expected to visit Xenia 2019.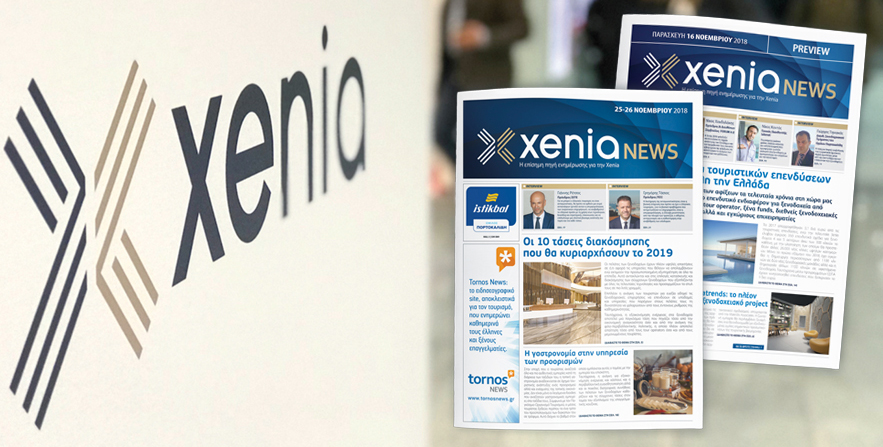 President and Managing Director of Forum AE Nikos Choudalakis commented that "FORUM AE always partners only with the best and most reliable companies. We trust the team of Tornos News of due to the integrity of their editorial team and because they can ensure to deliver an outstanding result for our partner exhibitors".
Tornos News CEO, Ioannis Yiannakakis stated that "this partnership represents a great opportunity, since FORUM SA is the market leader in the exhibition sector in Greece. We shall continue the tradition we established last year, by producing quality content and keeping tourism professionals constantly updated.