A historic exhibition…
Ever since 1969, when it was held for the first time in the historic Zappeion Megaron Hall of Athens, the Xenia exhibition has contributed significantly to the improvement of hotel infrastructure and tourist services in Greece. It developed alongside Greek Tourism, as a pioneer in organizing special events and implementing innovative exhibition practices.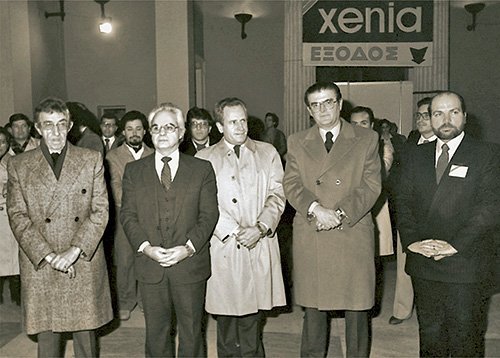 1970: Still from the inauguration of the 2nd Xenia at the Zappeion Hall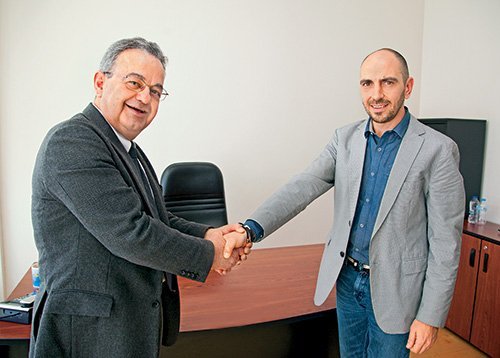 2017: Mr. N. Choudalakis and Mr. N. Koumanis sealing the transfer of Xenia to FORUM SA.
The relaunch of
the glorious exhibition!
The relaunch of XENIA, an exhibition that has been the meeting point for Greece's Tourism Industry representatives for over 40 years, comes at a time when Greek tourism is developing rapidly and the needs for upgraded infrastructure and services are growing. Professionals and companies from the most active sector of the Greek economy deserve the highest quality exhibition, professionally organized to the last detail. FORUM SA responds enthusiastically to this challenge!
The new XENIA, a premium exhibition, exclusively targeted at the hospitality industry, will be held at the METROPOLITAN EXPO, the most prestigious and well-equipped exhibition center in Greece. Moreover, it will be held on strategically selected dates, on November 25-26-27, 2017, allowing for the maximum utilization of commercial contacts for all exhibitors.
Our goal is for XENIA to regain its prestige and the institutional role it deserves and to be established as the reference point for Greece's Tourism Industry.
With the guarantee of FORUM SA
With 30 years of history, FORUM SA is one of the largest exhibition organizing companies in Greece, and is responsible for some of the most successful exhibitions of global scope, such as HORECA, ARTOZA and FOOD EXPO, which are the most important and most dynamic commercial forums for their respective sectors.
With a rich legacy of experience and expertise, FORUM SA puts its stamp on the new era of Xenia, through its values, efficiency and the high level of promotion that only FORUM can guarantee. Furthermore, FORUM SA guarantees that Xenia will once again become the number one trade show for the Hospitality Industry.
"We are particularly pleased with the return of the flagship Xenia exhibition.
We are certain that FORUM SA will pass on its vast experience and success to the exhibition, creating a reference point for the Tourism Industry in Greece."
"The relaunch of the Xenia exhibition can contribute significantly to the efforts of the hoteliers to choose tools and solutions for improving their position and performance, during this highly demanding era for Greek Tourism."
The high level of organization and the variety of special events will establish Xenia 2017 as the most important commercial and social forum for the Hotel industry.
NOVEMBER
25
SATURDAY
10:00-19:30
NOVEMBER
26
SUNDAY
10:00-19:30
NOVEMBER
27
MONDAY
10:00-19:00